Each year, thousands of dogs are diagnosed with cancer. Canine cancers bear many similarities to human cancers including tissue location, tumor progression, and response to chemotherapy and radiation. The canine immune system and immune responses are very similar to those of humans; circulating antibody levels in adult dogs are comparable to those of adult humans, canine T cells express many of the same co-stimulatory or co-inhibitory molecules, and many molecules that stimulate or inhibit antigen-presenting cells are the same in dogs and humans.  As a result, dogs are now recognized as an extremely useful large animal model of spontaneously arising cancers. Unfortunately, canine cancers are not as well defined as human cancers, and reagents that target immune checkpoint pathways are not yet widely available for veterinary research. Interruption of the programmed death 1 (PD-1) / programmed death ligand 1 (PD-L1) pathway has become an established and effective therapeutic strategy in human oncology and may be effective for treating canine cancers as well.  Two new monoclonal antibodies from QED Bioscience – Anti-Canine PD-1 and Anti-Canine PD-L1 – address the need for well-characterized antibody tools to investigate the pathology of canine cancers and contribute to the discovery of new immunotherapies that can benefit both dogs and humans. These novel antibodies are suitable for immunohistochemistry, flow cytometry, and inhibition of PD-1/PD-L1 interaction.
Formalin-fixed, paraffin-embedded canine tonsil and lymph node stained with IgA isotype control or with #34090.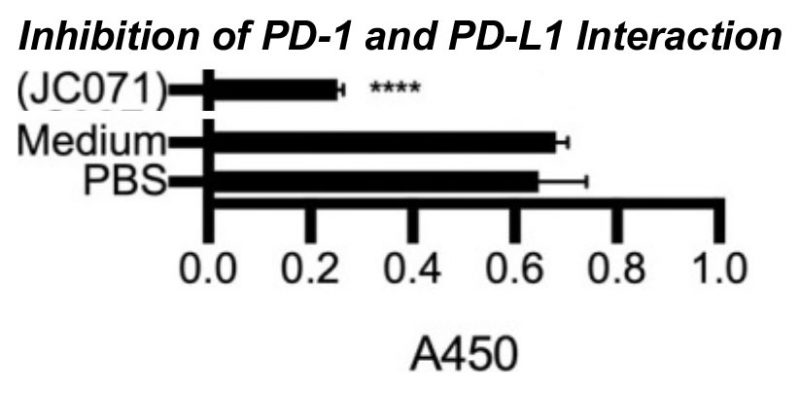 #34091 (cloneJC071) added to ELISA plates coated with PD-L1 followed by the addition of biotinylated PD-1 and streptavidin-HRP.  JC071 antibody blocked binding of PD-1 to PD-L1 as compared with binding of PD-1 to PD-L1 in the presence of culture medium or PBS.
Canine PD-1 and PD-L1 Antibodies
| Image | Name | SKU | Details | Price | Buy |
| --- | --- | --- | --- | --- | --- |